The Northern Nicoya Peninsula, Costa Rica
The northern part of the Nicoya Peninsula belongs to the province of Guanacaste whose coastline is made up of countless stretches of sun-swathed beaches, divided by rocky bluffs and mangrove-lined river estuaries. Some of Costa Rica's most famous surf and vacation spots are found here.
Tamarindo is the surf capital and touristic center of Costa Rica's northern Pacific. The bustling beach town boasts a big variety of hotels and excellent dining options. Surfing is a predominant activity all around Tamarindo: to the north surfers frolic on Playa Grande and to the south a series of prime surf spots include Langosta, Avellanas and Playa Negra.
Still further south comes the turtle beach of Ostional and the environmentally-committed community of Nosara, ensconced in a jungle and fronted by another great surf break. Nearby the laid-back beach village of Samara offers perfect bathing and snorkeling in its tranquil bay.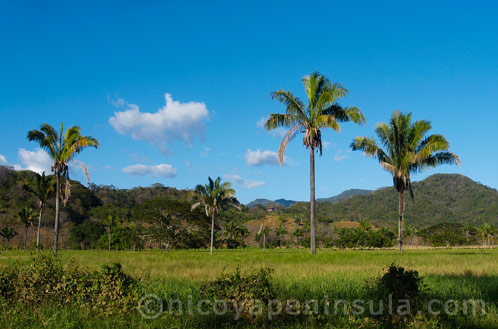 Inland the pleasant town of Nicoya is the cultural center of the Nicoya Peninsula and boasts Costa Rica's oldest colonial church. The interiors of the peninsula are still steeped in traditions - it's the land of cattle ranches and sabanero's - the Costa Rican variant of cowboys. Many of Costa Rica's most colorful traditions trace their roots in Guanacaste and its ranching history. The local folklore comes alive on civic fiestas hold in countryside villages during dry season. The merry communal parties feature rodeos with bull riding, typical food and dances at night to the sound of Marimba and Cumbia.
Agriculture and cattle trade still flourishes on the Nicoya Peninsula but nowadays tourism and real estate have become the most thriving industries in Guanacaste. The bridge over the Tempisque river, which connects to the Costa Rican mainland, and the enlarged international airport in Liberia have boosted development. Tourism in Tamarindo and further north - touted the Gold Coast of Costa Rica - gradually turns over from individual to package travel. Several luxury chain hotels have ventured into Costa Rica's most important vacation region and development projects are sprouting all over. Roads however are still precarious and water resources are limited in Costa Rica's arid north west.
Weather on the Nicoya Peninsula:
The northern Nicoya Peninsula is perfect to visit basically year-round, only October should be avoided as it is usually a wash-out.
Mid November trade winds from the north-east arrive, marking the end of the rainy season. The following months these offshore winds, called Papagayo, relief the heat and provide perfect surf conditions.
Sunshine is guaranteed during the high-season months of January - April. During this long and pronounced dry season many trees and shrub drop their leaves which makes it easier to spot animals.
In May a mellow rainy season follows which the tourism industry has dubbed the Green Season.
It's the time of the year preferred by eco-tourists as nature is verdant green, sunsets multi-hued, and many hotels offer low season rates.