The Southern Nicoya Peninsula, Costa Rica
The southern Nicoya Peninsula has long been one of Costa Rica's most secluded gems. From the hilly interior, the mountains sweep down to the Pacific Ocean, creating some of the most pristine and remote beaches in Costa Rica.
This tropical paradise had long been off the beaten path due to the poor condition of the roads. However, in the last ten years the roads and public transportation have significantly improved, allowing more development on the southern Peninsula de Nicoya.
Tourism has become an important part of the local economy although most hotels and businesses are still small and privately owned, and the atmosphere feels laid-back.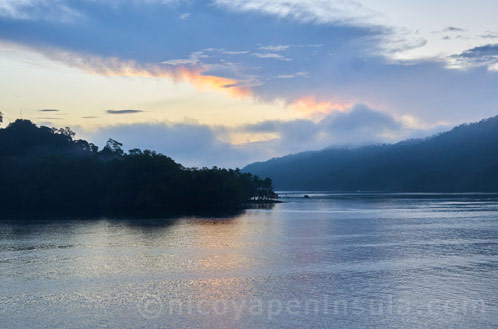 Among the most popular beach destinations are the off-beat enclave of Montezuma which is surrounded by scenic waterfalls and rivers, the laid-back village of Tambor, set in a huge half-moon bay, and Malpais along with Santa Teresa on an endless expanse of beautiful white sand beach offering some of the best surf conditions in Costa Rica.
Since the most popular entryway to the southern Peninsula de Nicoya is by boat from the port town of Puntarenas, the region belongs to the province of Puntarenas rather than Guanacaste. Roads connecting the southern to the northern province of the peninsula are still few and in bad condition.
While Guanacaste is known for its dry climate, the southern Nicoya Peninsula receives more rain, making it a transitional zone between dry forest climate and tropical rain forest. (See also: Weather).
Rivers and waterfalls form part of the scenery, and wildlife is protected in various reserves with a biological corridor connecting to the mountainous interior. Many animals are seasonal commuters and tend to migrate between different ecosystems.
Lodging options on the southern Nicoya peninsula range from budget hostels to some of the most luxurious boutique hotels in Costa Rica. Fortunately, package tours and large chain hotels are not (yet) common to the area.