Playa Coyote and San Miguel
The area between Punta Coyote and Puerto Carrillo (Samara) hosts some of the most remote and undeveloped beaches of the Nicoya Peninsula. Here you find the authentic rural Costa Rica with quiet hamlets, cattle ranches, and dramatic coastal scenery. Only few hotels and vacation rentals are dispersed along the route.
The beaches of Playa Coyote are bisected by the Rio Jabillo and its mangrove estuary. To get from the southern (Punta Coyote) to the northern Playa Coyote (Costa de Oro) you must drive 5 km inland via San Francisco de Coyote.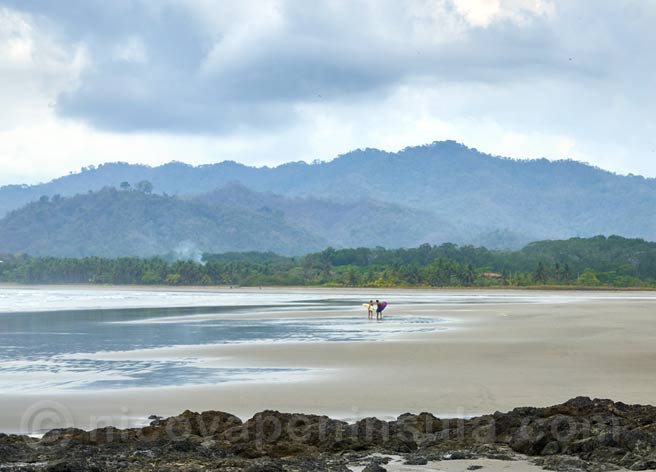 The southern beach, called Punta Coyote, is in a large bay, fringed by a palm grove with a well tended picnic area and camping facilities. The bay is protected by a rocky headland so that the water is tranquil, perfect for children and non-swimmers. It's so shallow that at low tide the beach becomes a 200 meter broad expanse of powdery sand while at high tide it is almost non-existent.
At the northern end of Playa Punta Coyote is the estuary of the Rio Jabillo where you can watch waterfowl like egrets and herons. Sometimes you also spot crocodiles basking on the river banks.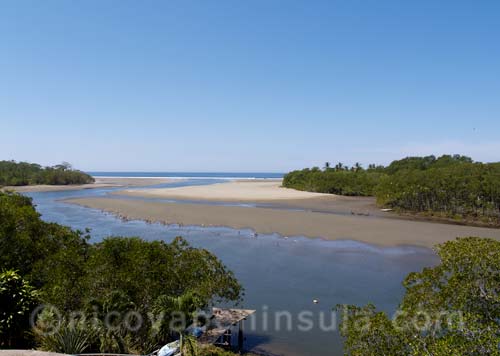 To the south the rocky promontory of Punta Coyote closes off the adjacent beach of Playa Caletas which belongs to the Caletas Ario Wildlife Refuge. The reserve was established in 2006 to protect one of Costa Rica's most important nesting sites for sea turtles.
Surfers can rent boards at Tanga's beach restaurant to surf in front of Punta Coyote, a 20 min walk around the rocky headland. The left and right reef breaks are best when the swells pick up from the south.
Five kilometer on the road inland is the village of San Francisco de Coyote with some shops, cabinas and restaurants. A daily bus drives to San Jose and also serves the beaches of Bejuco and Playa San Miguel. Other buses connect to Jicaral and the ferry in Playa Naranjo. There is however no public transportation to Mal Pais, Santa Teresa or Montezuma.
Playa San Miguel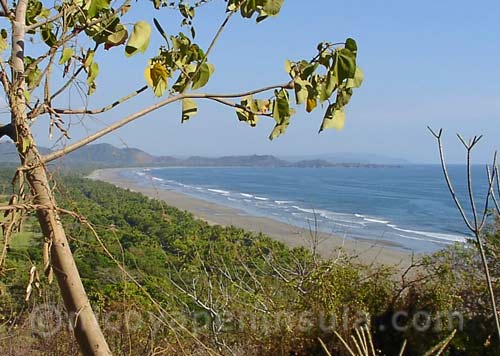 If you continue north, towards Samara, seven km past San Francisco de Coyote a road to the left leads to Playa San Miguel. There is no village or shops, only one or two bars and some vacation homes.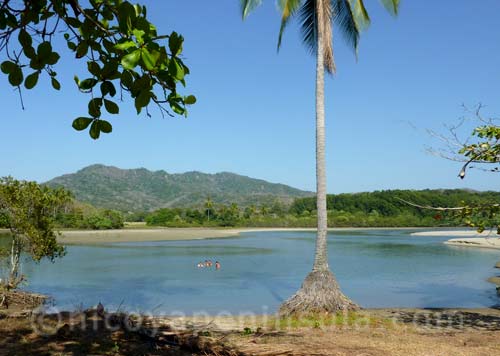 The beach with fine gray sand stretches for several miles and is deserted for most of the time. Swimming in the ocean is not recommended as there are strong rip tides. However at the southern end of Playa San Miguel you find a picturesque lagoon for bathing and swimming. Here you can wallow in calm, chest deep water and watch egrets, herons and pelicans catching fish.
Playa San Miguel offers good surfing at low to medium tide, with bigger swells waves tend to close out.
The untouristy character of this area is the biggest attraction for those who crave solitude on the beach and in the waves.
There aren't many hotels in Playa San Miguel but you can find lodgings with personalized attention and activities ranging from kayak tours into the mangroves to surf lessons, horseback riding, sport fishing, or a visit to a nearby butterfly farm.

From Playa San Miguel to Samara you continue north on the coastal road. See » Bejuco, Pueblo Nuevo, Playa Islita and Camaronal.

More Information: