Mal Pais, Costa Rica
Mal Pais is a small tranquil neighborhood, loosely spread out along five kilometers of road. Its southern limit abuts the Cabo Blanco Nature Reserve on the very tip of the Nicoya Peninsula, while to the north it runs into Santa Teresa. Here, at the road intersection of "El Cruze", the road from Cobano ends on the beach of Playa Carmen. Across from the intersection the busy beach town of Santa Teresa sprawls to the north, with a lively surfer scene, many hotels, bars, restaurants and shops.
» Map of Malpais with hotels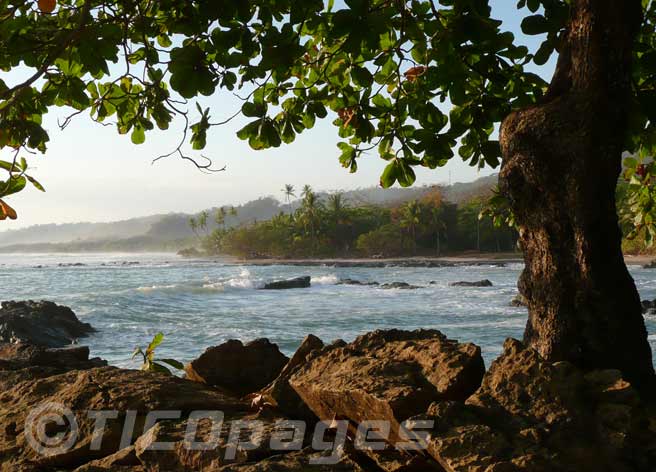 Many people refer to the entire beach area as Mal Pais, so when you hear of Mal Pais being one of the top tourist destinations in Costa Rica, it actually means the beaches of Santa Teresa and Playa Carmen.
Mal Pais is a smaller, and much more tranquil neighborhood. While in recent years Santa Teresa has seen a boom in development, Mal Pais has retained its laid-back, small village atmosphere, with large patches of unspoiled nature.
The coast of Mal Pais is rocky in most parts, with some bizarre volcanic formations creating fascinating scenery. Old jungle forest grows down to the shore where rocky outcroppings alternate with pockets of beaches, some made up entirely of tiny seashells.
There are only few hotels in Mal Pais, and no supermarkets or shops.
Instead of the tourist buzz nature lovers find many activities in Mal Pais. From the small fishermen port you can go on a tour by boat or on a SUP paddle board. The maritime sanctuary of Cabo Blanco protects many aquatic species and you can see dolphins, manta rays, sea turtles or whales. See: Malpais Underwater On a fishing excursion you can catch red snapper, wahoo, roosterfish and mackeral for your dinner. Tours are arranged by any hotel in Mal Pais or Santa Teresa.
The undisturbed mountains and coastal areas of Mal Pais are also great for bird watching. Tours with an experienced nature guide are arranged by hotels or the local tour operators.
» List of Birds in Mal Pais, Costa Rica (pdf)
» AOCR List of Birds in Costa Rica (pdf)
Although Malpais directly borders the Cabo Blanco Nature Reserve there is no entrance to the park from this side. You can however explore its neighborhood on a canopy tour on the edge of the nature reserve. Or go on a horse tour along the beach of Mal Pais and into the countryside.
Located within the national park but still accessible from Mal Pais is the scenic beach of Playa Cuevas, also called "the secret beach" (although it isn't a secret anymore). The small white-sand cove is surrounded by a rocky outcrop and offers good snorkeling at low tide.
Attention: Take care if you walk alone on the beach as there have been cases of armed robberies.
From Malpais to the Cabo Blanco Nature Reserve
From the village center of Mal Pais a scenic road leads over the mountains to Cabuya and Cabo Blanco. The first 2 kms pass through a river valley with lush jungle covering steep slopes on both sides. Then the road steepens to climb into the rolling hills of the Cabo Blanco backlands. After 7 km you reach the small village of Cabuya where you turn right to continue for another 2 km until the entrance of the national park.
For most of the year the road from Mal Pais to Cabuya is however in very bad shape and barely navigable even with a 4×4 vehicle. The alternate route from Mal Pais and Santa Teresa is via Cobano.
Half way between Malpais and Cabuya you can visit the Cabo Blanco Butterfly Garden where you can see and learn about Costa Rican butterflies, such as the famous blue Morpho.
The Cabo Blanco Nature Reserve is open from 8 am to 4 pm and a round-trip hike takes approx 4 hours. Mondays and Tuesdays the Cabo Blanco Reserve is closed.