Montezuma Costa Rica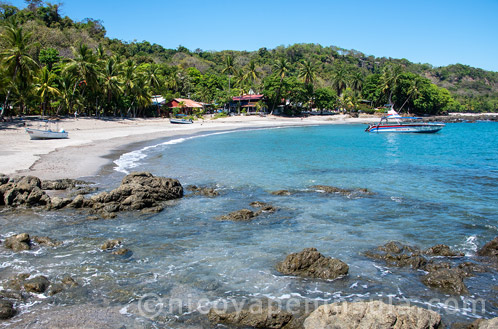 Montezuma is a picturesque small village, known for its bohemian atmosphere and the stunning natural beauty of its beaches and waterfalls. Nestled into a landscape of true tropical paradise, Montezuma is perfect for any beach lover and eco-tourist. The village is surrounded by jungle covered hills with small rivers forming scenic » waterfalls and pools. Groups of capuchin monkeys live in the forests and are easily seen.
For decades Montezuma has attracted a multi-cultural blend of individualists, artists and hippies seeking an alternative livestyle. Due to its off-beat character Costa Ricans also refer to it as Montefumar or Moctezuma.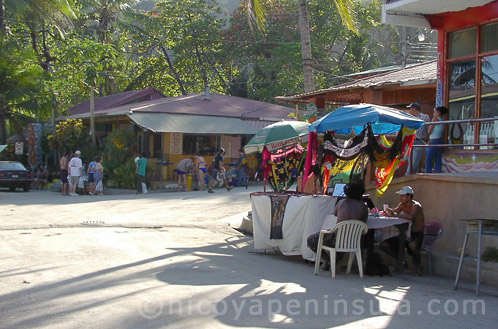 The hippie roots of Montezuma come alife on Saturday morning during the local farmer's market. Here you find organic food, artwork and handicrafts, while musicians gather for a jam session.
Montezuma's center, with charming old wood houses, itinerant artists and vivid street life has an almost Caribbean flair and feels like the open-air living room of the community. Within easy walking distance are beaches, restaurants and hotels in Montezuma. Lodging options also include many budget places in hostels and cabinas.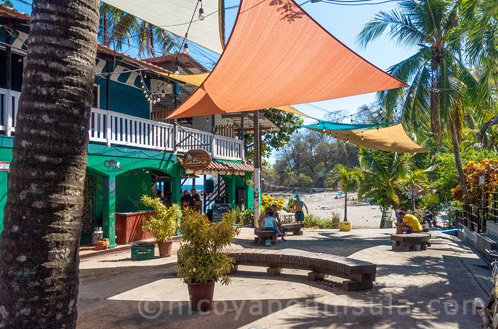 Montezuma's nightlife hub is Chico's Bar in the village center where at night you can dance to Latin music or techno beats. Another great spot for dining, good vibes and life events is Cafe Organica. On Mondays particularly people flock to the Open Mic Nights where resident and visiting musicians entertain with life music.
If you crave a more tranquil evening choose a place on the beach to enjoy the breeze and views across the Gulf of Nicoya. The scenery is particularly romantic on the nights around full moon when the moon rises behind the distant mainland of Costa Rica and shimmers on the quiet water of the Gulf.
How to get there
A » direct bus connects to San Jose and also stops at the international airport SJO two times per day. Travel time, with ferry ride included, is 5.5 hours.
With little luggage you can also opt for the 60-min boat tour which connects Montezuma with Jaco. From there you can continue with mini buses to many other Costa Rican tourist destinations.
If you are driving with your own car, please check the description about » Driving on the Nicoya Peninsula.
The Montezuma Waterfall
The waterfalls are among the most noted features of Montezuma. They actually consist of three cascades, located each on top of the other. The highest and most beautiful one is the lowest waterfall. It tumbles from a height of 24 meters into a large, rocky pool which is great for swimming. This waterfall is reached on a 20-minutes hike from Montezuma's village center. See » Map of Montezuma
The rough trail leads steeply uphill through the thickly forested river valley. Wear sturdy, water-resistant shoes as you will tread through the river and clamber over slippery rocks and roots.
On your way upriver you find a couple of natural bathing tubs in the rocky riverbed. Some of these pools are like sparkling jacuzzis, fed by the cool river water: a refreshing spa in pure nature, surrounded by the steep-sided jungle.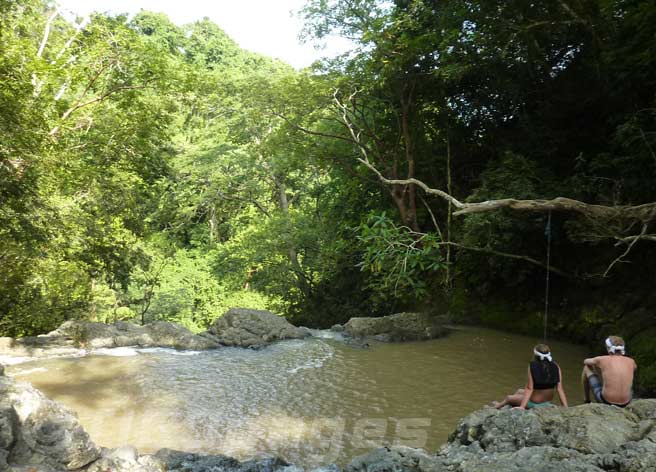 Located above this lower water fall are two more cascades, which both form deep natural pools, large enough for swimming. A rope is fixed to a low branch and you can swing and plunge into the water like Tarzan.
To get to these upper falls you can either hike up a trail whose trailhead is the river valley, roughly 60 meters before the lower pool. Or drive to Suntrails Montezuma Canopy located 1 km uphill from Montezuma. Paying a small fee you can use their trails and hanging bridges which also lead to the upper cascades and swimming pools.
Activities in Montezuma: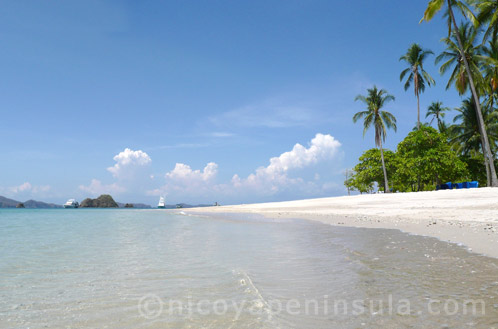 A host of tour operators and hotels in Montezuma offer tours to nearby sights and activities.
Very popular is the canopy tour through the river valley above the Montezuma waterfalls. Or make a full-day tour by boat to the Tortuga Islands where you can snorkel or dive in crystal-clear water. Other activities include horseback riding along the beach, surfing, SUP paddling, fishing or yoga which is offered by many hotels in Montezuma. Nature lovers should not miss a visit to » Cabo Blanco, Costa Rica's oldest Nature Reserve, located 9 km south of Montezuma.
One of the most worthwhile and cheapest activities however is hiking along the scenic coastline which stretches for many miles to both sides of Montezuma :
Beaches north of Montezuma: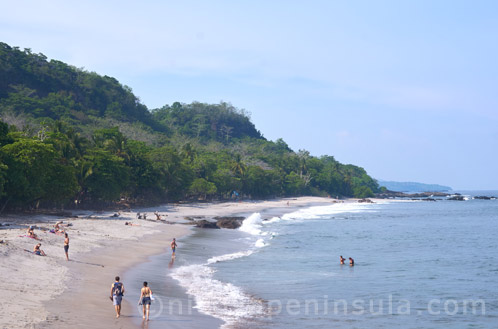 Playa Montezuma is a large sandy beach a few steps north of the village center. It is great for sun bathing and swimming but take care as the sea bottom drops steeply and the surf is sometimes rough.
If you crave more solitude you can venture farther north, past pristine, secluded bays, fringed by the jungle. The path alternates between the beach and a trail behind the rock formations. After a 15-minutes hike comes Piedra Colorado, a pocket beach between rocky outrops where a small river empties into the sea. The off-shore reef is good for snorkeling. Stretching inland along Playa Piedra Colorado is the Nicolas Wessberg Natural Reserve. The 63 hectares absolute reserve is off limits to enter and its the steeply rising rock face provides a beautiful backdrop to the beach scenery.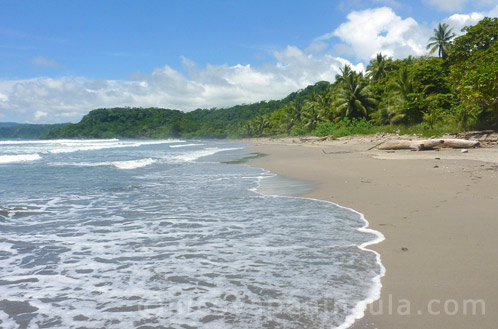 Still further north, 3 km out of Montezuma, you arrive at Playa Grande whose long expanse of white-sand beach is one of Montezuma's best surf spots. Behind Playa Grande the 156 hectares of the Romelia Wildlife Refuge protects flora and fauna. This nature reserve may not be entered either but you can stay in the shade of palm trees of a 50 m stretch of public zone along the beach.
From Playa Grande the beach wilderness stretches still farther, all the way until » Tambor. You pass by Playa Cocalitos with its river lagoon and the El Chorro waterfall which cascades off an escarpment into the ocean. Once the waterfall filled a scenic rocky pool in which you could bathe, but it was destroyed by the 2012 earthquake.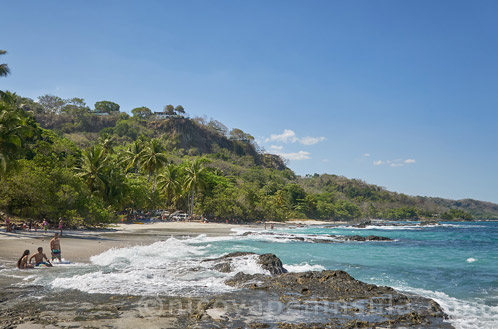 Beaches south of Montezuma:
Choose low tide to walk around the rocky headlands south of Montezuma where tide pools provide natural bathing tubs. After two kilometers you arrive at Playa Las Manchas, a picturesque white sand beach with clear turquoise waters. The bay affords great swimming and snorkeling but you have to take care of a rip current, especially towards the southern part of the bay.
Further south, see: » Cabuya