Hiking through the Cabo Blanco Nature Reserve
Cabo Blanco was originally established as an "Absolute Nature Reserve" whose access was restricted to scientists and park rangers. Today visitors are allowed to hike through the reserve on two designated trails: the "Sueco" and the "Danes Trail".
You can increase your chances of seeing animals if you move slowly and silently through the trails, or sit quietly at a riverside. In dry season the visibility through the thickets is better, as many trees and shrubs shed their leaves.
The Cabo Blanco park is open from Wednesday to Sunday, 8 am – 4 pm. Entrance fee is $ 12
From Montezuma and Cabuya a small public bus drives to the park entrance four times per day. From Malpais there is no entrance to the Cabo Blanco park. You have to drive » from Malpais to Cabuya
Map of Cabo Blanco
At the entrance to the nature reserve you find a booth with information about the wildlife and history of Cabo Blanco. The rangers at the station are very helpful in answering questions and there is also a tap for filling up water bottles.
If you want to hike the Sueco Trail to the Cabo Blanco beach you should arrive at the park no later than 12 am as you will need at least 4 hours for the 4.2 km to the beach and back. The trail is moderately difficult because it rises up steeply before dropping down to the beach. An easier, shorter walk is the 1.5 km loop of the Danes Trail.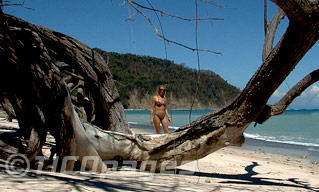 The gorgeous white-sand beach of Playa Cabo Blanco lies in a half-moon bay framed by cliffs and rocky headlands. Here you can experience that Robinson Crusoe feeling and enjoy a well-deserved, luxurious bath on the pristine paradise beach.
When looking for a shady place on the beach, take care not to sit under the "Manzanilla" tree whose excretions can cause skin irritations.
Take nothing with you from the park (besides your trash of course). Even driftwood and empty shells are part of the maritime life cycle.