Birdwatching in Palo Verde
In the middle of Costa Rica's hottest and driest region, the floodplains of the Rio Tempisque form an extensive and diverse patchwork of habitats including fresh and saltwater marshes, lagoons, lakes, savanna woodlands and forests.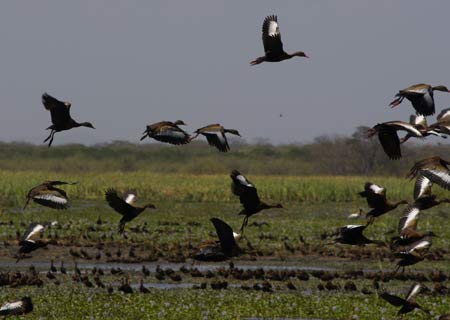 Within the marsh, such species as the black-bellied whistling duck, the blue-winged teal and northern jacana have been observed by the thousands.
Teal, geese and ducks arrive from North America to winter in the park each year, along with many neotropical migrants, including hummingbirds, flycatchers, warblers, tanagers, orioles, vireos, owls, and falcons. See: » Birds on the Nicoya Peninsula
A 2-km trail along the marsh between the Biological Station and the ranger station of Finca Palo Verde affords excellent birdwatching. A great outlook point is the observation tower in the marshland.
A boat tour along the Tempisque River is a popular way of exploring the bird life of the mangrove forests. Nesting colonies of » boat-bill herons are easily spotted, along with little-blue herons, yellow-crowned herons and others. The Tempisque River has a 4 meter rise and fall with the tide. » Crocodiles and caimans can often be seen on its banks.
Boat tours pass by Isla de los Pajaros, the most important nesting colony for wading birds in northwest Costa Rica. Some 3000 aquatic birds nest there including white ibis, roseate spoonbills, anhingas, wood storks, jabiru storks, and the nations largest colony of black-crowned night herons. Many » boas inhabit the island, feeding on bird eggs and nestlings.
Palo Verde harbours also other avian exotics such as toucans and the only permanent colony of scarlet macaws in the dry tropics. Endangered species such as great curassow, yellow-naped parrot and king vulture are found as well and the wetlands presents the only nesting site for the rare jabiru stork, the largest stork in the world.
The rich and diverse eco-systems boasts 279 different species of birds. See » List of Birds in Palo Verde (pdf). The number increases to 300 taking into account the habitats of Lomas Barbudal which offers excellent birdwatching of dry forest species like long-tailed manakin, turquoise-browed motmot, stub-tailed spadebill, olive sparrow, and black-headed trogon.