Playa Grande, Costa Rica
Playa Grande is only a shell's throw away from Tamarindo but it feels a world apart from its bustling neighbor across the estuary.
Vacationers on Playa Grande are mostly eco-tourists and surfers who wish to avoid the crowds to enjoy instead tranquility, nature attractions and one of the best surf spots of Costa Rica.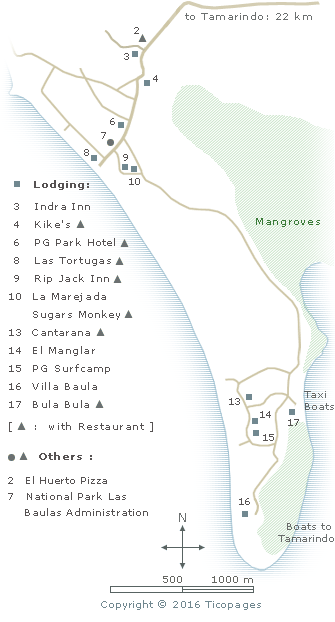 The beach of Playa Grande is a miles-long crescent of fine, pale sand backed by a coastal vegetation which the constant ocean breeze has shaped into a conical form. On a beach walk you will encounter few people. Avoid to step on the soft-sanded upper part of the beach as you might destroy turtle egg layings – the beach of Playa Grande belongs to the National Park Las Baulas which protects Costa Rica's most important nesting site of leatherback sea turtles.
Construction in Playa Grande is set back from the beach to conserve the shoreline and at night the lights of houses and hotels must be shielded so that nesting turtles aren't deterred. After sundown no visitors are allowed on the beach, unless they are accompanied by a park guide.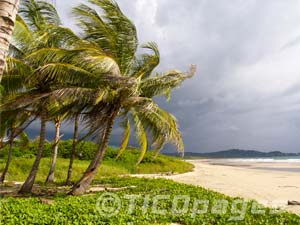 Playa Grande's neighborhood is mainly composed of foreigners who use their luxury villas only during holidays or to let them as vacation rentals. A scattering of hotels and restaurants cater to affluent tranquility-seekers and surfers. Budget accommodation in Playa Grande are hard to find and an own vehicle is recommended. While Playa Grande offers one of Costa Rica's best surfing spots swimming is dangerous as the sea bottom drops steeply and currents can draw even experienced swimmers into the open sea. See: Surf spots around Tamarindo
On the inland side of Playa Grande extends the estuary of the Rio Matapalo with its mangrove jungle. The 1,500-acre maze of narrow waterways and small islands is home to six different mangrove species. Some of the red mangrove trees tower up to over 30 m altitude.
With a kayak you can quietly explore this fascinating habitat with its many water birds. Sometimes you see crocodiles basking on a sandbank.
On the northern end of the Playa Grande beach a trail behind the rocks leads to Playa Ventanas, a pristine beach in a small bay which offers tidepools for snorkeling and bathing. At low tide you can continue further over the rocks to the next cove, the black-sand beach of Playa Carbon, surrounded by dramatic beach wilderness and caves in the rocks. Still further north the rocky cliffs curl away to the wooded promontory of Cabo Velas, the most western point of Costa Rica.
Las Baulas National Park on Playa Grande
The National Park Las Baulas seeks to protect the most important nesting site of the leatherback sea turtles in the whole Eastern Pacific area. Leatherbacks are the largest of the sea turtles. They can grow to over 2 meters long (7 feet) and weigh up to 700 kilos.
These gentle giants of the oceans are on the brink of extinction. Egg poaching and encroaching development threaten their nesting spots, but the major culprit for their rapid decline are Asian commercial shrimping vessels and long-line fishing boats in whose nets the turtles drown.
Nesting season for the leatherbacks is from Oct to March. During these months, after 6 pm, visitors are only allowed to the beach with a guide. Turtle tours are offered from Playa Grande and Tamarindo but a turtle sighting isn't guaranteed as the leatherbacks have become extremely rare.