Samara Costa Rica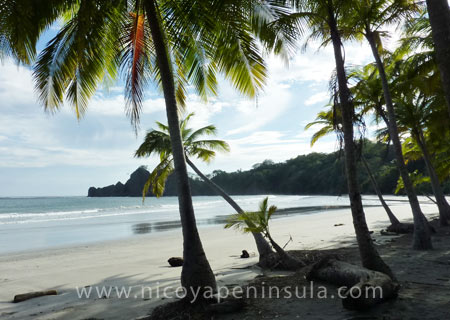 Samara is the perfect place to soak up sun and enjoy beach life in an unpretentious, laid-back atmosphere. The small village is located in a large crescent bay with a broad sandy beach that spans more than 7 km and is lined by palm trees. An offshore coral reef protects the bay of Samara so that the water is calm and good for swimming and snorkeling.
Samara has a pleasant 'Tico' feel as it is also a popular vacation spot for Costa Rican tourists. In recent years however it has gained popularity for a growing number of expats.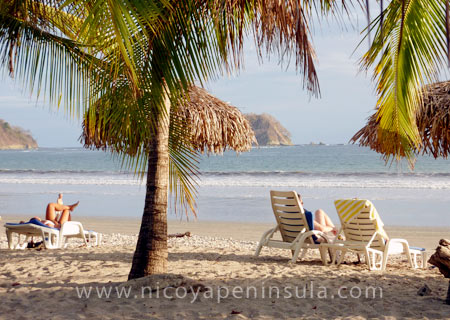 Hotels in Samara offer many good lodging options in the mid- and budget range and the village is easily reached by a paved road from Nicoya. A daily bus connects to San Jose and other major towns in Costa Rica.
As the center of town is very compact there is no need of an own vehicle. Hotels, supermarkets, stores and the beach are all within easy walking distance. There is a wide selection of restaurants and bars in Samara: on the beach you enjoy the ocean breeze while lounging in a laid-back beach bar with sand floor, or stroll into the village center to find even more cool venues and places for dining or partying at night.
The village center also hosts a couple of art galleries and cafes where you can find some unique piece of artwork to bring home and remembering you of the easygoing Pura Vida in Costa Rica.
If you venture a bit out of town you will discover beautiful uncrowded beaches to the north and south of Samara. To the North is are the neighborhoods of Cangrejal and Cantarana which are home to many locals and expats. From here you can continue for another 2 km until you reach a river estuary and the pristine beach of Playa Buenavista.
To the other direction, 8 km South of Samara is Playa Carrillo a picturesque palm-lined beach in a tranquil horseshoe bay.
Tours and Activities in Samara
For snorkeling the best spot is in Cangrejal, at the northern end of the Samara Bay. Here, the ring of coral reef connects to the shoreline and in dry season you enjoy crystal clear waters with colorful fish, manta rays, and star fish within the submarine fauna.
Another great activity in Samara is a kayak tour where you paddle to the 5-hectare islet of Isla Chora, at the southern end of the Samara Bay. Isla Chora is a wildlife reserve for maritime birds and it sports a pink sand beach where you can relax before paddling back. Other kayak tours can be made along the coast and into the mangroves of nearby river estuaries.
Surfing and SUP is easily available on the beach of Samara where you can have surf lessons and rent a board. With chest-deep water and easygoing waves the bay of Samara is perfect for beginners learning to surf. More challenging waves for experienced surfers are found 12 km south of Samara, on Playa Camaronal.

Sport fishing on Costa Rica's Pacific Coast is world-class and professional fishing tours are offered from the nearby port of Carrillo. Sportfishers can catch mahi mahi, marlin, giant tuna and sailfish among others.
A popular tour by boat is dolphin-watching and you might also see sea turtles or manta rays while enjoying views of the Samara coastline.
For activities on land you can ride on horseback along the beach or to the Tobacco waterfalls, comprised of three cataracts and natural swimming pools. Or, go on a Canopy Tour in Santo Domingo, three km inland from Samara.

Orchids and jungle lovers should make a day tour to Montealto, a nature reserve in the mountains near Hojancha. You can explore the dense tropical forest on various trails, one of them festooned with a multitude of Costa Rican orchids on posts and trees.
Located right on the beach is the Samara Language School where you can take Spanish classes to improve your language skills. The teachings are complemented with cultural immersion and, if desired, a homestay with a Costa Rican family.
Samara Nightlife:
Early Evening
Lo Q Hay Pub is a lounge with comfortable seating on the beach of Samara. It is nice for sunset and later with the colored lights on the trees and mellow music playing.
La Vela Latina on the beach is a relaxed hangout for sipping a cocktail at sunset and after. Friendly bartenders, snacks and American football when it's the season.
Samara Pacific Lodge is a French restaurant, a 5 min drive to the north of Samara's center. The menu changes daily and features fresh ingredients along with a great wine selection.
Micro Bar is a small, intimate place which specializes in beers from local breweries but also serves cocktails.
Night
Tabanuco is a beach restaurant with bar that often has reggae nights and other music events. It's a stylish yet unpretentious place with a big tree in the middle of the dance floor.
Las Olas is a local's favorite on the north end of the Samara beach. It offers Mexican food and pool tables in a rustic environment. (Don't walk alone on the beach at night)
Late Night
Bar Arriba on Samara's main drag is a sports bar with large screen TVs. At night it turns into a night club with DJs and special music events where you can dance and party in the tropical breeze.
Getting to Samara:
Samara can be reached quite easily on the 35 km paved road from Nicoya. If coming from the Tempisque bridge you can also take the road over the mountains via Hojancha and Carrillo. Daily direct buses connect to San José. The Samara airport however does not exist any more. The closest airstrip is in Nosara.