Animals in Costa Rica
Caterpillars
It pays off to closely examine leaves and tree barks: many fascinating little creatures are masters of disguise and blend with their surroundings. Some caterpillars look like the leaves or tree barks on which they sit, others might disguise to look like a bird's dropping.
As most people will know, caterpillars will once become butterflies and moths. In their childhood the hungry little caterpillar will eat around 20 times its weight and change its skin five times until he is big enough and will knit himself a sleeping bag in a safe place. There he will rest for around 30 days to become a chrysalis. When it's time the cloth of the sack is torn and the butterfly emerges. His wings are still humid and fragile so the butterfly extends them and moves them for 20 minutes. Then he is ready for take off into the world of flowers.
Be careful if you see caterpillars with vivid colors, brushes and hairs. It's a warning for predators that the caterpillar is poisonous.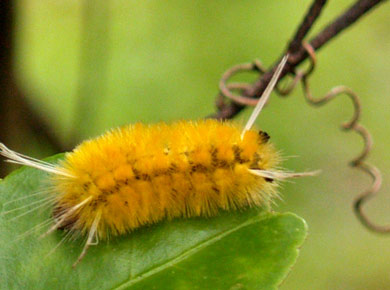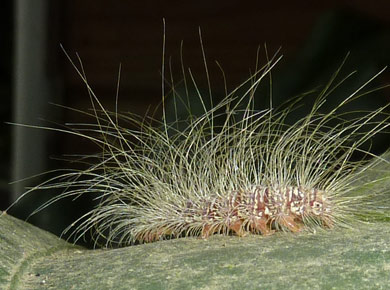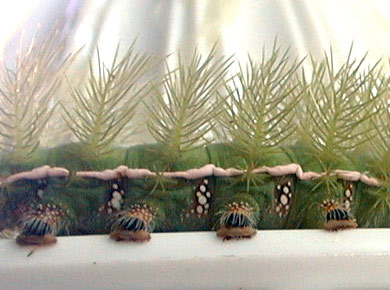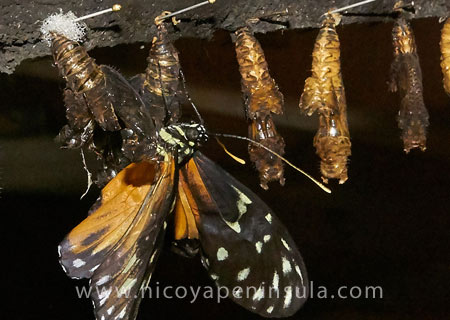 In Costa Rica you will find many Butterfly Gardens, or Mariposarios in Spanish. You can watch the adult butterflies, also their caterpillars and chrysalis. On a guided tour you learn a lot of interesting facts about the flying marvels and their amazing metamorphosis.
Most butterfly farms also breed butterflies to export them to butterfly gardens all over the world.