Birds of Costa Rica
Herons on the Nicoya Peninsula
Herons are almost always found in wetland habitats in Costa Rica, on shorelines, in marshes, along rivers and lakes. The long-legged and long-necked birds are well adaptad for hunting in the water. Some of the heron species in Costa Rica are migratory, others live here year-round.
Of the three tiger-herons in Costa Rica the Bare-throated Tiger-Heron is the most common one. It is found in fresh and brakish water habitats, often standing in a motionless posture in shallow waters and waiting for prey which they spear up with their sharp beak. The birds have their name for the fine herringbone pattern of their plumage.
The Green Heron species which occurs in Costa Rica is found from South Canada to Panama. This small heron is commonly found near shallow fresh, brackish and salt water.
With its massive broad scoop-like bill and very big eyes the Boat-billed Heron is the funniest-looking of all Costa Rican herons. The wading bird lives in small colonies, often hiding in thick cover. The oversized eyes are an adaptation to hunting at night. To capture small fish and shrimp they scoop the water surface with their bills which are perfectly adapted for this task.
Great Blue Heron
Green Heron
Tiger Heron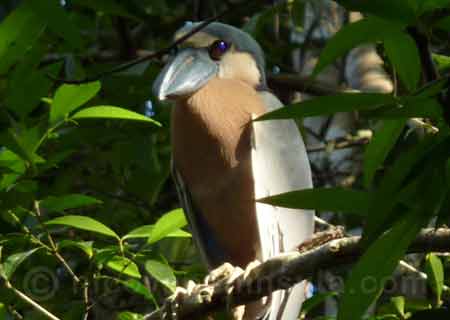 Boat-billed Heron
---
Egrets
Egrets are herons but are normally smaller with a mostly white body and decorative plumage. While most heron species are solitary birds, egrets are gregarious and life in colonies.
The White Ibis is a medium-sized wading bird with a long, red, down-curved bill, red legs and black wing tips. It is often encountered in mangrove lagoons and shallow wetlands. For nesting and night roosting ibisses congregate in colonies with dozens or hundreds of birds. Juveniles have a brownish plumeage.
The first sightings of Cattle Egrets in Costa Rica was in 1954. Originally from Africa the gregarious birds have become permanent residents and the most common egret species in Costa Rica.
The tall, long-legged Great Egret is a wading bird, fishing on the rim of salt or sweet water for fish, crabs or frogs. Around the turn of the 19th century his decorative long plumes were used for fashion articles. Hundred thousands of birds were slaughtered and it was almost driven to extinction. Snowy egrets were hunted as well. They are much smaller than the Great Egrets and have a black bill, black legs, but striking yellow feet. Both egrets are often seen in colonies together with other marsh birds.
Cattle Egret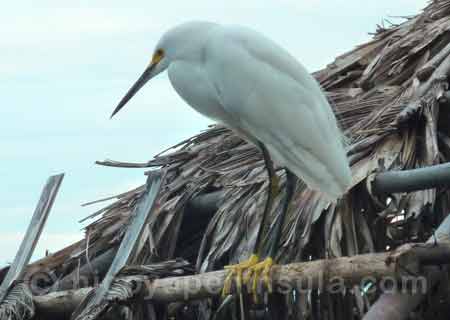 Snowy Egret
Great Egret
Roseate Spoonbill
Its pink plumeage and bizarre spoon-shaped bill make the Roseate Spoonbill a quite conspicious bird. It is almost three feet tall and you often see him in small flocks among other water birds, especially in the Northern part of the Nicoya Peninsula.