Islands in the Gulf of Nicoya
Most of Costa Rica's islands are situated in the Gulf of Nicoya. Even the bigger islands are little populated and touristically undeveloped. Some of them are uninhabited by humans, but are instead home to colonies of sea birds.
The best way to explore the Robinson Crusoe beaches is on a kayak tour through the Gulf of Nicoya.
The Islands in Detail :
Chira Island is the second largest island of Costa Rica (Cocos Island is bigger). Around 3500 inhabitants live there on fishing, subsistency farming or work on the salinas, where salt is extracted from sea water. These salt pans are popular with roseate spoonbills and other wading birds. Isla Chira is bisected by a large estuary at the east leading into a canal through vast mangrove swamps.
By now there are only few accommodations on the island. From Puntarenas a daily boat goes to Isla Chira from the fish market. You can also hire a boat from Pájaros or San Pablo.
Most of the 1100 inhabitants of Venado Island are huddled together in the fishing communities on the northern side, where you also find some rustic accommodations if you speak some Spanish. Hiking trails through the protected forest lead to viewpoints, other from that there isn't much to do. Isla Venado is reached by water launch through the mangroves from "La Penca", 3 km east from Jicaral.
Isla Caballo is covered with tropical dry forest and has some nice beaches. The island is home to around 250 people, but there are no accommodations. Its smaller sister island, Isla Bejuco, is uninhabited with the exception of a caretaker having an eye on things.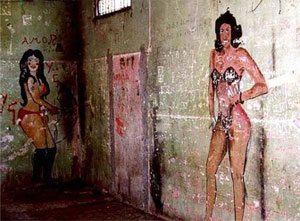 Isla San Lucas was a penal colony until 1991. It had the reputation of being the roughest jail in Costa Rica and its 117 years history is rich with tales of violence. A network of underground prison cells hosted society's undesirables who ran the community, fished, farmed and did domestic chores. In 2008 the island was declared a cultural heritage site and national wildlife preserve. From Puntarenas it's a 40 min boat ride to San Lucas and tours can be made to visit the prison cells with their graffiti, the church and other other buildings of the island's gruesome past.
Isla Gitana protects the Bahia Gigante from rough weather, making the bay popular with boaters. On Isla Gitana, the Fantasy Island Yacht Club, was a funky sailors hang-out until it closed in 1998.
The island's alias, Isla Muertos, gives clue to a more remote history: indians had used it as a burial post and still you can see graves there, nowadays christianized with crosses.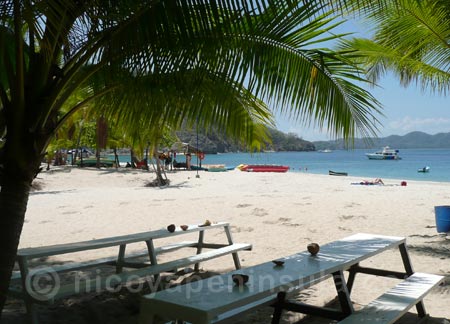 With emerald waters and palm studded white sand beaches Tortuga Islands is the most popular of Costa Rica's islands. Situated in front of the Curu Wildlife Refuge the clear waters around the two islands afford excellent snorkeling and diving while picknic areas under swaying palm trees are perfect for relaxing.
You can take a stroll through the tropical dry forest and hike up to a lookout point, zip through the treetops on a small canopy tour, play volleyball or rent kayaks. Besides local operators, tour companies also offer day trips from San José or Puntarenas to the Tortuga Islands.
Biological Reserves:
These islands are protected seabird sanctuaries and off limits for visitors. With binoculars, birdwatchers can nevertheless enjoy birdwatching from a boat.
Guayabo is the largest of four known nesting sites in Costa Rica for brown pelicans. The island also affords breeding for boobies and frigate birds and accommodates peregrine falcons in winter. The boat from Puntarenas to Paquera passes close by the cliff-bound rocky islet and you can watch the crowds of circling birds.
The Negritos Islands are neighbors of Isla Tortuga and comprise two islands separated by a narrow channel. They are covered with scrubby forest.
Pájaros island lies in front of Punta Morales, 20 km north of Puntarenas.