Santa Teresa Costa Rica
Santa Teresa is a booming travel destination in Costa Rica which attracts especially surfers and the younger crowds to its scenic beaches and great surf.
A broad strip of forest frames the beach of Santa Teresa and an absence of high-rise buildings maintains the pristine image of the coastline with its long sweep of white sand beach washed by the pacific surf and backed by jungle covered hills. Behind the beach forest lies Santa Teresa's main drag which runs parallel to the coast on a potholed and dusty dirt road. » Map of Santa Teresa with hotels
Quite a tourist who had just been on a surf vacation in Costa Rica decided to make Santa Teresa his home and the past years the village has seen a huge spike in devolopment. There are continuous building activities in town and constructions spread up the hills inland from the coast.
The multicultural new residents created a panoply of restaurants, venues, and hotels in Santa Teresa, with lodging options from low-key surf hostels to some of the most luxurious hotels and vacation rentals in Costa Rica.
For many people surfing is the main pursuit and many visitors receive their first surf lesson in Santa Teresa. Apart from challenging surf spots for experts there are also the easy-going breaks of Playa Carmen for novice surfers. Many hotels offer surf instruction and surf camps in Santa Teresa.
There is however still more to do than surfing. Playa Santa Teresa and Playa Carmen rank among the most beautiful beaches of Costa Rica. You can make long hikes along the picturesque coastline, bathe in tidal pools or find a place under a palm tree for loafing and reading a book.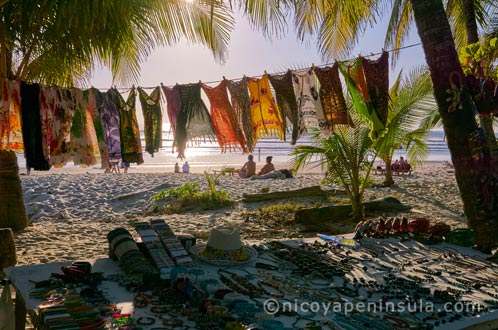 Many activities are available in the neighboring community of Mal Pais. From its small fishing port you can embark on a tour by boat to go snorkeling or fishing. Nature lovers should not miss a visit of Cabo Blanco, Costa Rica's oldest Nature Reserve. Other options are stand up paddle boarding, kayaking, horseback riding or ziplining on the canopy tour next to the Cabo Blanco Reserve. You can also explore nearby attractions as the waterfalls in Montezuma, or make a boat and snorkeling tour to the Tortuga Islands.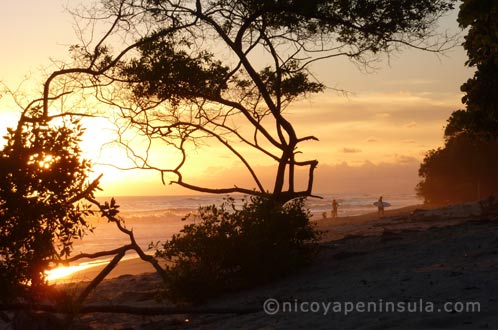 When it comes time for sunset the entire town seems to gather on the beach to enjoy the cool breezes, watch the surfers, and make plans for the evening. Santa Teresa offers plenty of nightlife, especially during high season, from December to March. Extreme party time, with international DJs and many events, is during the Christmas/New Year holidays.
For a more local flair you can visit the typical dancehall, "La Lora" which often has a Costa Rican live band playing Salsa and Cumbia.
Interestingly, Santa Teresa and Mal Pais have been the first communities in Costa Rica to receive glass fibre cables for telecommunications. High speed internet is available with up to 100Mbps. All hotels in Santa Teresa and nearly all restaurants offer free Wifi for their guests.
The Beaches of Santa Teresa
Santa Teresa has no central focus. The town sprawls parallel to the coast, lined up along several miles of potholed, dusty road. Most visitors enter Santa Teresa on its southern edge, at Playa Carmen, where the perpendicular street from Cobano comes in. See: » Map of Playa Carmen.
Playa Carmen
Locals refer to the road intersection at Playa Carmen as "El Cruze". It marks the border between the community of Mal Pais to the south, while Santa Teresa extends to the north. In high season this road intersection is often crammed with vehicles. It is Santa Teresa's main commercial area with two banks, the pharmacy, car rental agencies, doctors, shops and restaurants.
A public road leads down to the beach of Playa Carmen with its parking lot and palm trees providing shady areas. To the south you gaze upon the rocky shoreline of Mal Pais, backed by the verdant hills of Cabo Blanco at the very tip of the Nicoya Peninsula.
Playa Carmen is popular with sun bathers and surfers who can ride a long beach break here. You can even surf at night, when the waves are lit by flash lights. Swimming, however, on Playa Carmen and Playa Santa Teresa, is not recommended as the surf can be overwhelming.
Playa Santa Teresa
The actual Playa Santa Teresa is situated around 3 km north of Playa Carmen, past the soccer field. » Map of Playa Santa Teresa
In recent years this area has become more and more popular and many new hotels and restaurants have popped up. The beach here is a broad and long expanse of white sand edged by jungle. The surf on Playa Santa Teresa is more challenging and presents both point and beach breaks. A local landmark is the discotheque of "La Lora" with its dance and music events. Here a road descends to a small parking lot on the beach, which is a popular surfer hangout.
Santa Teresa North
Venturing further north constructions along the shoreline and parallel road become more sparse. Though the beach is rocky in several parts, it presents a picturesque coastal landscape.
3 kms past "La Lora" you pass by the "Peñon", a sugarloaf shaped rock in the ocean. For the next 400 meters the road skirts a scenic beach where at low tide you find a large rocky tidepool that is nice for bathing and snorkeling.
Playa Hermosa
2 kms further north of the "Peñon" you arrive at a T-junction where an uphill road to the right leads to Manzanillo and on to Samara and Nosara, while a turn to the left brings you to Playa Hermosa.
Playa Hermosa, meaning Beautiful Beach, is an appropriate moniker: it is the paragon of the tropical beach, both wide and sandy, ringed by swaying palm trees and almendros. There are no underwater rocks, making it ideal for bathing and the gentle surf is easy for beginners. Be careful with swimming however, as there is often a strong current, especially on the northern part of the beach.
Playa Hermosa is Santa Teresa's most recent boom area. Only few years ago you could often find yourself alone on its scenic wide sand beach. Nowadays however it is one of the most popular beaches of Santa Teresa and a favorite surf spot for teaching novice surfers.
North of Playa Hermosa: » Playa Manzanillo
Attention: on all beaches of Santa Teresa take care of your belongings. Never leave any valuables unattended in your car and at night don't walk alone on the beach. More » Travel Safety
How to get there
A direct bus connects to San Jose and the international airport at 6am and 3pm. Travel time, with ferry ride included, is 5.5 hours. Another option to reach beach destinations on the Costa Rican mainland is the taxi boat to Jaco, Manuel Antonio, Dominical or Uvita. The service also includes the pick-up from your hotel in Santa Teresa.
If you will drive with your own car see: Ferry schedules and the article about Driving on the Nicoya Peninsula.