Puntarenas Ferry to Paquera and Naranjo
Ferry to the Southern Region:


(Tambor, Montezuma, Malpais, Santa Teresa)

Puntarenas to Paquera
Paquera to Puntarenas



7:00 am
10:00 am
12:30 am
3:00 pm
6:00 pm

6:00 am
10:00 am
12:30 am
3:00 pm
5:00 pm

Ferry to the Northern Region:


(San Miguel, Nicoya, Nosara, Samara)

Puntarenas to Naranjo
Naranjo to Puntarenas



6:30 am
10:00 am
2:00 pm
5:30 pm

8:00 am
12:00 pm
4:00 pm
7:00 pm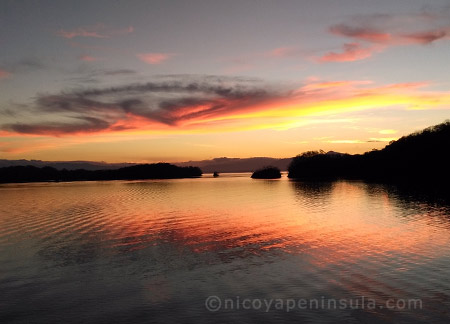 The 70 minutes boat ride across the Gulf of Nicoya is a scenic and relaxing trip with great views of the peninsula. It passes by small islands in the gulf, some of them protected biological reserves which are only inhabited by colonies of maritime birds.
In Puntarenas the ferry dock is at the tip of the land spit, 2 km past the town center. Take care to get on the right boat: for Santa Teresa/ Malpais /Montezuma take the ferry to Paquera, to Samara and Nosara take the ferry to Naranjo.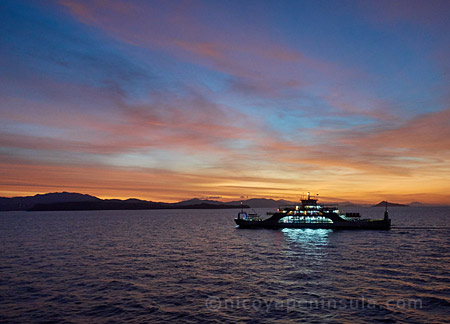 With a Car on the Ferry:
A simple car with driver included costs $ 25 one way. Reservations, to secure your space on the ferry, can be made online: Ferry Reservation. Otherwise pay in cash (Costa Rican Colones) at the office by the ferry dock. A single passenger ticket costs $ 1.50 (Col 810), a simple car is around $24.
Be prepared that the roads on the Southern Nicoya Peninsula (Province of Puntarenas) are the worst in all of Costa Rica. Even short distances can take a long time. More: Driving with a Car
Driving Distances from the ferry in Paquera to
Tambor: 24 km (40 min)
Montezuma: 48 km (70 min)
Mal Pais and Santa Teresa: 58 km (80 min)
Attention Bus Travelers:
The 5:00 p.m. ferry from Puntarenas is the last one which connects to the public bus to Montezuma, Mal Pais and Santa Teresa. See also » Direct Buses from San José to Mal Pais, Santa Teresa, Montezuma, Samara, Coyote…